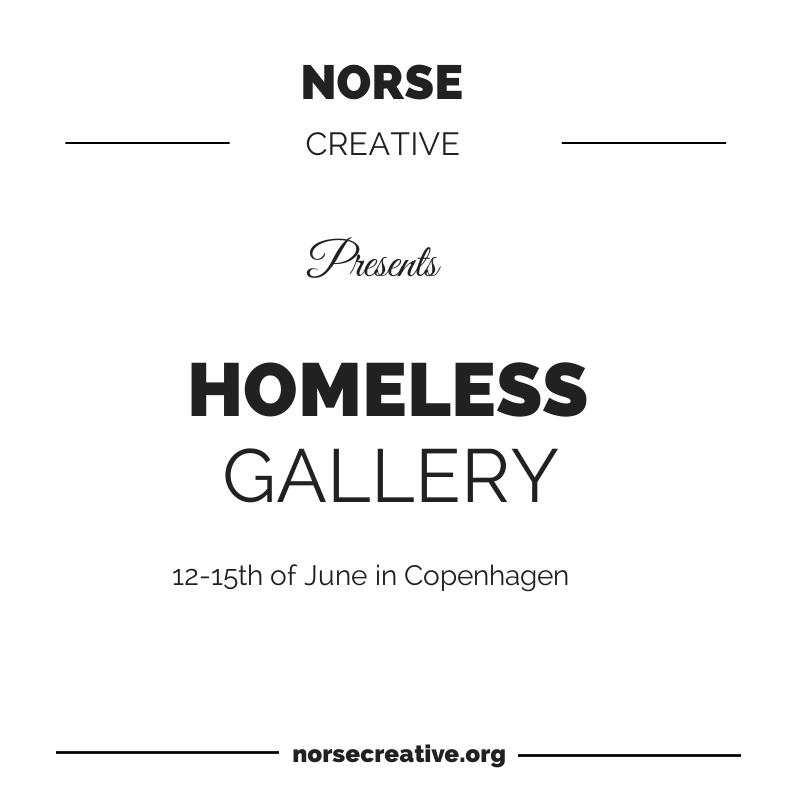 I would like to invite you to the Homeless Gallery, an event that our collective, Norse Creative, is organizing within the Copenhagen Photo Festival this year.
The concept of the Homeless Gallery was founded in Poland in 2001 by Tomek Sikora and Andrzej Świetlik and since then has found temporary homes in more than 80 countries.
The idea with the Homeless Gallery is to enable all artists to publicly show their work, which for different reasons would otherwise not make it to public display.
Artists who cannot afford a gallery, artists who like to experiment, artists who would not think of showcasing their work to other people than family and friends. But also for professional artists who want to show some of their more personal projects.
The exhibition is not curated and open to all artists. Everybody can show their work, professionals, amateurs, students.
There are no entry requirements with regards to theme, format or genre. The exhibition will show work solely based on the artists self-censorship.
The Homeless Gallery has no permanent residence, it appears, opens its doors to the public, only to vanish again after a short while. The exhibition shall be a tribute to the many forms of photography and shall give space to a unique collection of photographical work, which will only exist in this form for a limited time.
This year we expect to host about 35 artists from various countries, residing mainly in Copenhagen, but also coming from London and Amsterdam.
The exhibition will open on
Thursday, June 12th at 20.00
– we will have also some live music that day, first it will be
UNA VOX
– cello duo and then a bit of gypsy jazz in Django Reinhardt style by Swing Partout trio.
From Friday to Sunday the Gallery will be open from 14.00 till around 22.00 and maybe later!
We have a nice lineup of live music for Friday, June 13th, starting with yours truly as part of the Turkish flute class  with our teacher Cahit Ece at 15.00 (I'll be on the guitar though), later at 17.00 we'll have Cloos/Lund/Søgaard jazz trio, then around 20.00 – a band called Pierrot le Flou (beautiful music and vocal! not to miss!!) and there will be a DJ duo at the end of the evening…
Saturday is dedicated more to the photography – we will have Dmitry Bulkin from London giving an artist talk during the day and then Erik Schrader will join the Gallery with his artist talk and we'll hear and see also from two travellers about their project in Uganda.
Some other events are planned as well, but we're still in the process on finalizing the program – it's our first event, so please, bare with us!
The Homeless Gallery is hosted by KW3, a project and cultural house for the young entrepreneurs and artists, located in Østerbro.
Location
KW3, Krausesvej 3, 2100 København Ø.
Opening Hours
Opening 12 June 2014, 20:00 – 22:00
13 – 15 June 2014, 14:00 – 22:00
Additional Events during the Exhibition
Artist talks by Erik Schrader (DK), Dmitry Bulkin (UK)
Music by Una Vox, Swing Partout, Cahit Ece, Cloos/Lund/Søgaard Trio, Pierrot le Flou and DJs Mie Berhmann & Ignas
Free Entrance
Please support the event and the house that is hosting us by buying a beer at the house bar!
I will be there all days and will be happy to welcome you and give a personalized tour around!
Looking forward to seeing you there!
About Norse Creative
Norse Creative was founded in 2013 and is a photography and visual arts collective based in Copenhagen.
Currently Norse Creative consists of the following photographers: Anna Sircova (Latvia), Bastien Vaucher (Switzerland), Catalin Mihaila (Romania), Inesa Adamonyte (Lithuania), Johnny Frank Nielsen (Denmark), Michal Kwapisiewicz (Poland), Malte Brandenburg (Germany), Petra Lang (Romania) and Scott Urquhart (Canada).